Other resources:
Video:  Setting up a New Class in Pearson (1:47)
Video:  Assigning Topic Pre-Tests and Lesson Checks (5:32)
Video:  Pearson Training (6:07)
This training video walks though how to assign Topic Tests (to be used as pre-tests) and individual lesson quizzes. It also shows the student view with these items and finally, the teacher view once the students have taken the tests.
---
Video:  Khan Academy Setup (6:41)
---
Students: How to Access the Pearson Online Text with the Puffin Academy App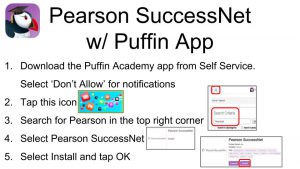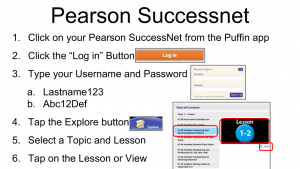 ---
Step 1
Set up your online Pearson SuccessNet account
Add your products
Add your students
Assign quizzes and tests
Print out your student log in roster
Step 2
Teach your children how to access Pearson via Puffin and how to navigate the site.
Step 3
Determine what pretest you would like to use
Form a/b from Envision   (hand scored) question alignment can be found in your teacher's manual or click here (add link)
Online pre-test found in pearson (scored for you)  (show how to find this)
Step 4
Use a class list and mark the lessons along the top.
For each student mark the lessons that the student will need to complete (Add picture)
Determine what group each child will attend for this topic based on the pre-test score.
Create a list of children for each group.
Cut strips for each child doing enrichment and  attach to enrichment materials for the topic.
Step 5
Collect Enrichment materials for the students to use when they are not responsible for the lesson.
NOTES: How do the kids get instruction for the topics?

Direct instruction
Pearson Success Net videos
Read the lesson from the book
watch a Khan Academy video