Do you sometimes feel stressed from juggling school, friends, family, and extracurricular activities? If so, don't worry! You're not alone. We've got you covered! Sal from Khan Academy has recorded a few short meditations to help you relax.
You may be wondering—what is meditation? Why should I do it? Meditation, a simple practice of mindfulness, can help you reduce stress and improve your focus.
1 – Practice by listening to "Guided Meditation for Students" with Sal.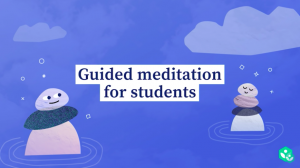 2 – Set some reminders to meditate on your iPad. Maybe begin with a few times a week and eventually find a time each and every day to practice meditation. 
3 – Check back here every so often for a new guided meditation with Sal.
Source: KhanAcademy