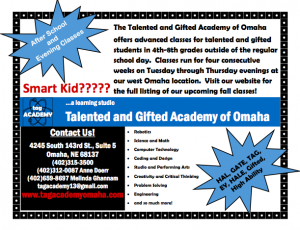 The Talented and Gifted Academy of Omaha offers advanced classes for talented and gifted students in 4th-8th grades outside of the regular school day.  Classes run for four consecutive weeks on Tuesday through Thursday evenings.  Click on the following links to find out more information!
Click Here for an Informational Flyer
Click Here for Information about an Open House on August 22 and 27th
Click Here for September Classes
Westside Community Schools does not sponsor or endorse the organization or activity described in these flyers.  The sharing of this information is provided as a community service.