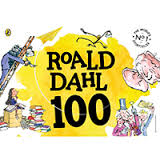 September 13th is Roald Dahl's birthday! He would be over 100 yrs old.
Visit the site below to get "Life Advice from Roald Dahl in 10 Scrumdiddlyumptious Quotes!"
http://www.signature-reads.com/2016/09/life-advice-from-roald-dahl-in-10-scrumdiddlyumptious-quotes/
Read the quotes and choose your favorite one!
In the comment section below, tell us what your favorite Roald Dahl quote is and what it means to you!