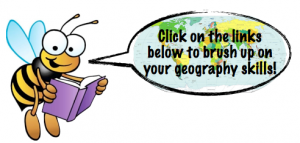 Geography Bee qualifiers should use these links to prepare for the school Geography Bee!  Good Luck!
1. All About the Geography Bee: http://www.nationalgeographic.com/geobee/
This is the official Geography Bee site.  A daily quiz is posted and you can take it by clicking on "Take the Quiz" on the top menu bar.
2. World Country Facts: http://www.theodora.com/wfb/abc_world_fact_book.html
This site contains facts about the countries of the world.
3. Fifty States: http://www.50states.com/

On this site,  you'll find facts about the 50 states.
4. Geo Resources: http://georesources.co.uk/countries3.htm
This site provides hundreds of country links.  Some are good for Geography, others provide political, historical, sociological data and information.
5. World Atlas: http://www.worldatlas.com/aatlas/world.htm
6. Geography Games: http://www.quia.com/pages/all.html
7. GeoNet Game: http://www.eduplace.com/geonet/
8. Nine Tips & Techniques to Help Win the Geography Bee: http://geography.about.com/cs/geographybee/a/geobee.htm
9. Geo Bee Practice Test: http://www.proprofs.com/quiz-school/story.php?title=Geography-Bee-Prep-Quiz-2
10. Geo Bee Training: http://kids.nationalgeographic.com/kids/games/puzzlesquizzes/quizyournoodle-geography-bee/
11. Where is That?  Funbrain Game: http://www.funbrain.com/where/index.html
12. Geography Quizzes: http://geography.about.com/library/quiz/blpreviss.htm