1 – Watch this video on Growth Mindset.
This is a story of two seeds – both planted on the same day, in the same soil, in the same garden bed. One has a growth mindset—with a curious desire to grow and reach the outside world—while the other has a fixed mindset—filled with fear and choosing the remain stagnant in its soil.
This video explores the characteristics of a fixed mindset and a growth mindset. It busts the myth of perfection and teaches you to appreciate mistakes and failures. The video explains that fear is a natural universal emotion, how challenges help you grow, and provides tips on how to switch on their growth mindset.
Source: ClickView for Schools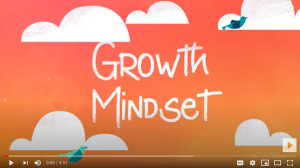 2 – Think of a time that you were challenged and frustrated. What did you do to get through the situation? Write at least a paragraph (on iPad or paper) about this personal experience and what you learned from it. At the end of your paragraph, write some tips for developing a growth mindset.
3 – Keep your story for a reminder when you face your next challenge. If you would like to share your story, email your document or a photo of your written work to your EY Coordinator.