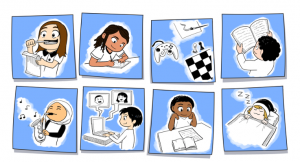 Across the country, many teachers and students have transitioned into some form of distance learning. This is a big adjustment for most of us. You probably miss seeing your friends and teachers, going to special events like games and dances and even participating in ordinary parts of the school day, like lunch or short breaks. You might also miss — without realizing it — the routine that school brings to your life.
A school-day schedule helps us structure our time. It tells us when the day begins and ends, and how to spend all the hours in between. The school day builds in time for learning, physical activity and play, creativity, socializing, eating and taking breaks, too. Without this routine, a day at home can feel endless. Luckily, there are steps you can take to create a daily routine that works for you and provides some of the structure you're missing. You'll want to make sure your new routine allows you time for both productivity and rest.
Step 1: Read the rest of the Newsela article, Establishing a new routine for distance learning.
Step 2: Create a chart that includes the activities in your morning, afternoon, and evening distance learning routine. You may use a table in Google Docs or create a presentation in Google slides. Include clip art or photos that go along with each part of your day.
AFTERNOON EXAMPLE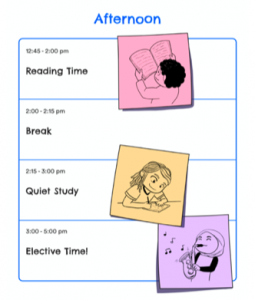 Step 3: Post your distance learning routine chart/slides in your home work space to keep you on track and get the most out of your distance learning journey!