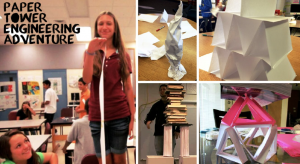 Week of December 7 – 11
For this week's weekly challenge, you will be building a freestanding structure that is as tall as possible and is made of only paper!
Rules:
Use only

20 sheets

of paper.
No tape, staples, paper clips or glue, but you may cut or rip the paper.
Use printer paper only!
Once you've built your structure as tall as possible with your 20 sheets of paper, measure it – use inches as your unit of measure.
When you are finished with your structure, and you've measured it, take a picture of your structure with your iPad.
Submit your picture and your measurement via this Google Form link: https://forms.gle/gcZPMXShSm1wLWur6