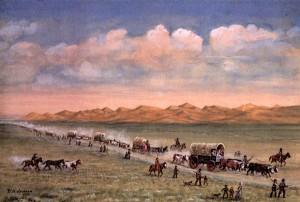 Want to learn all about the Oregon Trail?
Go to this website:  http://www.america101.us/trail/Oregontrail.html
Read all about the trail, the historic sites, and learn some fantastic and fun facts (one fact is about games using buffalo dung)!
Next, click on this link to see a map of the Oregon Trail.
Now, find the east and west end of the Oregon Trail on a modern-day map (You can use this link, if you'd like, or find another map you like better). First find Independence, Missouri (It's near Kansas City), then Oregon City, Oregon (it's near Portland). What roads would you take today to get from Independence to Oregon City? Are those roads close to the old Oregon Trail?
Post a comment below, sharing your modern-day Oregon Trail route!