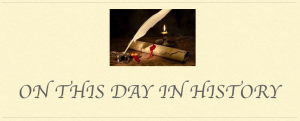 Ever wondered what happened on this day in history?  Now you can find out by going to this link:  http://memory.loc.gov/ammem/today/today.html.
For example, today I learned that United States General Zachary Taylor was victorious over Mexican General Antonio Lopez de Santa Anna in the Battle of Buena Vista on February 23, 1847. Named for a nearby hacienda, the Battle of Buena Vista was fought near Monterrey, in northern Mexico. On the evening of February 21, General Taylor received a message from General Santa Anna offering to accept an American surrender and be spared the battle. Taylor reportedly replied: "I decline accepting your request." For the next two days, the Mexican army of over 15,000 troops assaulted the smaller U.S. force of only 5,000 men. The agile field artillery and advantageous battle position, however, favored General Taylor against overwhelming odds. By nightfall of February 23, the exhausted and dispirited Mexican army retreated; Taylor elected not to pursue the troops and remained to secure the region.  This event helped to secure our victory in the Mexican-American war.
Go to the above link and respond below with what you learned about the day you chose to research!