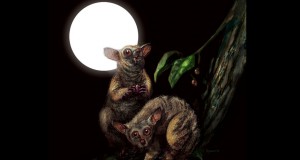 The picture above illustrates an artist's idea of what North America's last nonhuman primates might have looked like. The animals are shown on a hackberry tree. It's the most common plant known from the sediment layer in which the fossils were found.
Do you like to visit the primates at the zoo? Do you know what animals are considered primates?  Do some research on primates at Smithsonian's National Zoo and then post a comment below with new information you learned.
A new, ancient species of primate has been discovered in Oregon.  Click the link below to learn more about this amazing discovery.  When you're finished, post a comment with two new things you learned.