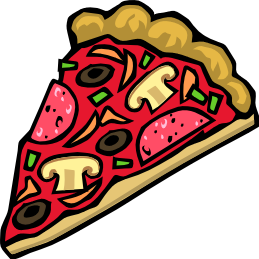 Image taken from http://pdclipart.org
May 19, 2016:  Along the seafront of Naples in Italy, 100 chefs collaborated to create a 1,853.88 metres (6082.2 feet / 1.15 miles) long Neapolitan, which Guinness World Records has just confirmed is officially the Longest pizza ever made. ~Guinness World Records
How can I spend my Math Minutes this week?
Find out about all the "numbers" associated with creating this mile-long pizza!  Link to article:  http://www.guinnessworldrecords.com/news/2016/5/italian-chefs-create-mile-long-neapolitan-to-break-longest-pizza-record-429657  Post a comment below with an amazing fact you learned by reading the article.
Many of the measurements in the article are given in metric units.  Use an online conversion calculator to change any of the measurements from metric to customary (online calculator: http://www.sciencemadesimple.net/weight.php)
If you could choose to make a "mile" of your favorite food, what would it be?  What ingredients would need?  What special tools would you need to have on hand?  Write a story about your "mile of food" and include an illustration.
Read about other food-related world records and post a comment about something new you learned.