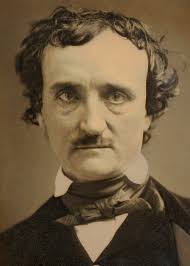 Who was Edgar Allan Poe? Poe was a famous American author – and many of his poems and stories are still being read and enjoyed over 100 year after his death on October 7, 1849.
Find out more about Edgar Allan Poe by checking out this Wonderopolis entry:
http://wonderopolis.org/wonder/who-was-edgar-allan-poe
Take the Wonderopolis quiz and post your score below in the comments section.
Now, go a little bit further:
Check out this website about Poe and his literary works:  http://www.eapoe.org/works/
After exploring that site, choose one of the following activities:
a) Create a drawing to go along with one of Poe's works.
b) Write your own poem or short story, "Poe style".
Send your drawing or poem/short story to your EY Coordinator.