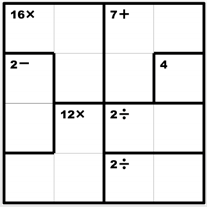 According to kenkenpuzzle.com…
It's not a crossword. It's not some extreme version of tic-tac-toe. So what is KENKEN and where did it come from? Simply put, it's a grid-based numerical puzzle that uses the basic math operations—addition, subtraction, multiplication, and division—while also challenging your logic and problem-solving skills.
How can you spend your Math Minutes this week?