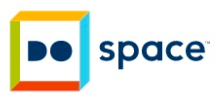 Have you been to the new Do Space in Omaha?  I haven't, but I just signed up for a FREE workshop on January 10th to create a glowing hoodie sweatshirt!  I'm so excited!
Check out the website and the calendar of events below.  If you end up going to Do Space, post a comment about your experience.  Better yet, take a picture of what you created and send it to the EY coordinator at your building!
Click here for the Do Space calendar
Westside Community Schools does not sponsor or endorse the organization or activity described here.  The sharing of this information is provided as a community service.