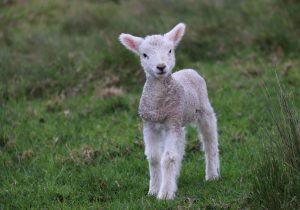 Everyone knows the nursery rhyme "Mary Had A Little Lamb," but you probably didn't know this was based on true story!!
The nursery rhyme, which was was first published in 1830, is based on an actual incident involving Mary Elizabeth Sawyer, a woman born in 1806 on a farm in Sterling, Massachusetts. Spoiler: its fleece WAS white as snow.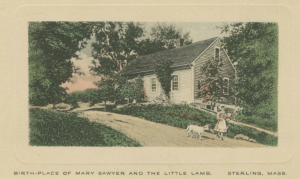 Birthplace of Mary Sawyer and the Little Lamb
In 1815, Mary, then nine, was helping her father with farm chores when they discovered a sickly newborn lamb in the sheep pen that had been abandoned by its mother. After a lot of pleading, Mary was allowed to keep the animal, although her father didn't hold out much hope for its survival. Against the odds, Mary managed to nurse the lamb back to health.
"In the morning, much to my girlish delight, it could stand; and from that time it improved rapidly. It soon learned to drink milk; and from the time it would walk about, it would follow me anywhere if I only called it," Mary would later write in the 1880s, many decades after the incident. And, yes, the lamb would indeed follow her wherever she went and did have a fleece as white as snow.
Sometime later, Mary was heading to school with her brother when the lamb began following them. The siblings apparently weren't trying very hard to prevent the lamb from tagging along, even hauling it over a large stone fence they had to cross to get to Redstone School, the one-room schoolhouse they attended. Once there, Mary secreted her pet under her desk and covered her with a blanket. But when Mary was called to the front of the class to recite her lessons, the lamb popped out of its hiding place and, much to Mary's chagrin and to the merriment of her classmates, came loping up the aisle after her. The lamb was shooed out, where it then waited outside until Mary took her home during lunch. The next day, John Roulstone, a student a year or two older, handed Mary a piece of paper with a poem he'd written about the previous day's events. You know the words (except maybe for the 3rd verse):
Mary had a little lamb;
Its fleece was white as snow;
And everywhere that Mary went,
The lamb was sure to go.
It followed her to school one day,
Which was against the rule;
It made the children laugh and play
To see a lamb at school.
And so the teacher turned it out;
But still it lingered near,
And waited patiently about
Till Mary did appear.
Watch the video below to hear the tune that goes along with the words above.
Now, here's your task:
Write your own words to go with that tune in the style of the poem above.  Submit your poem to the EY coordinator at your school!