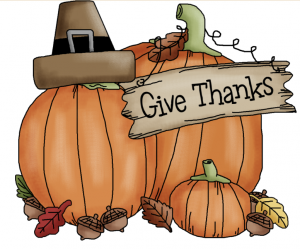 Next week is Thanksgiving! As we get ready, let's take a look at some fun facts about the holiday:
The first Thanksgiving was celebrated in 1621 over a three-day harvest festival. It included 50 Pilgrims and 90 Wampanoag Indians. It is believed by historians that only five women were present.
Turkey wasn't on the menu at the first Thanksgiving. Venison, duck, goose, oysters, lobster, eel, and fish were likely served, alongside pumpkins and cranberries (but not pumpkin pie or cranberry sauce!).
President Abraham Lincoln proclaimed Thanksgiving a national holiday on October 3rd, 1863. Sarah Joseph Hale, the woman who wrote "Mary Had A Little Lamb", convinced him to make Thanksgiving a national holiday after writing him letters for 17 years!
There are 4 towns in the United States named "Turkey". They can be found in Arizona, Texas, North Carolina, and Louisiana.
The average number of calories consumed on Thanksgiving is 4, 500!
The tradition of football on Thanksgiving began in 1876 with a game between Yale and Princeton. The first NFL games were played on Thanksgiving in 1920.
Thanksgiving is a time to be THANKFUL! Watch a video below to see what Kid President is thankful for!
Comment below to let us know what YOU'RE thankful for!!