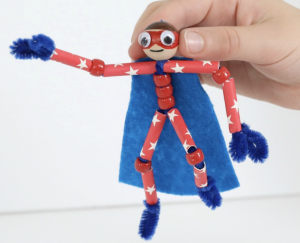 Source: https://frugalfun4boys.com/pipe-cleaner-superheroes
If you are a superhero fan, you will not want to miss this awesome craft! You will have a blast creating your own jointed and posable superheroes out of very simple materials. Pipe cleaners, straws, beads… You probably have most (if not all) of the supplies on hand!
First, grab your supplies:
Pipe cleaners
Felt, for capes
Straws – we used paper straws, but regular straws are just fine (and much cheaper)
Googly eyes
Pony beads
Wooden beads – we used 3/4 inch diameter beads
Tacky Glue
Hot glue
Scissors
Markers – we used Sharpie oil based paint markers. They bleed less on wood than regular Sharpies.
Step 1: Start by drawing hair and superhero masks on the wooden beads.
Step 2: Glue on googly eyes – SO CUTE! Then draw a little mouth.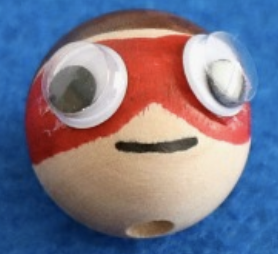 Step 3: Grab three pipe cleaners. Twist them together in the middle. I found that three "twists" was enough to hold them securely together. Then adjust them so that they are in the arrangement shown.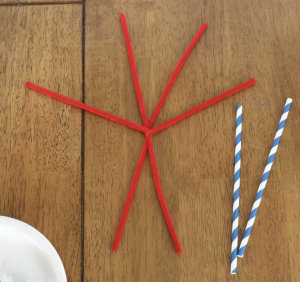 Step 4: Slide three pony beads onto BOTH of the bottom two pipe cleaners. This will form the body.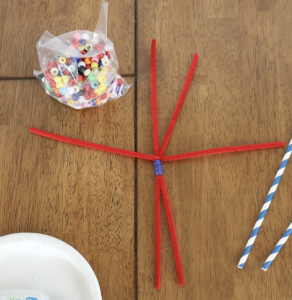 Step 5: Cut a straw into 8 one inch segments. (Or feel free to adjust the size!) We found that we could get 7 segments out of each straw, so you'll need two straws per superhero, with quite a bit left over.
Step 6: Build each limb by sliding on a straw segment, then a pony bead, then another straw segment.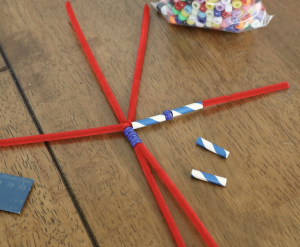 Step 7: Bend the ends of the pipe cleaners into hands and feet. I found that it helps to wrap some of the excess around the wrist or ankle to make it secure. Then trim off any excess ends.
Step 8: Slide the head onto the final two pipe cleaners. Then trim off the excess.
Step 9: To make the head more secure, attach it with Tacky Glue. Squirt some glue onto the pipe cleaners. Then slide the head on. We had a little bit of glue ooze out at the bottom of the head. Just wipe off the excess with a paper towel.
Step 10: Cut out a cape from felt and use hot glue to attach it to the backs of the arm segments.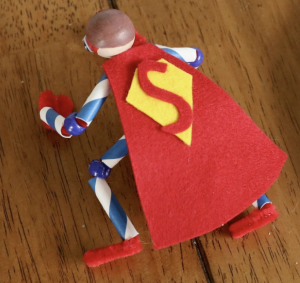 In the comments below, share a picture of YOUR Pipe Cleaner Superhero!
**Extra challenge**: Write a story with your Pipe Cleaner Superhero (or heroes) as your main character. Share the story with the EY Coordinator at your building!