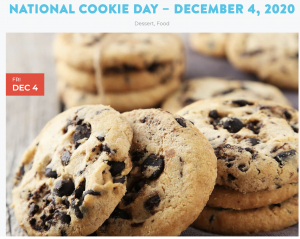 Friday is National Cookie Day!!  This is a great time of year for cookies! I know I can't stop eating them!
Here's a quick, but fun, video about the history of the cookie – did you know they were invented by accident? Find out how by clicking below:
Then, who is the most FAMOUS lover of cookies???  Well, Cookie Monster! Who else? To help celebrate National Cookie Day, sing along with the video below!
Finally, I think I have the BEST recipe for chocolate chip cookies. I've shared it below.
Ingredients
1 cup Shortening
1 cup Sugar
1/2 cup Brown Sugar
2 eggs
2 tsp. Vanilla
2 cups Flour
1 1/2 tsp Salt
1 tsp Baking Soda
12-oz. pkg. Chocolate Chips
Preparation
Cream shortening, sugars, eggs, and vanilla until light and fluffy. Sift together dry ingredients. Stir into creamed mixture. Blend well. Add chips.
Drop from tsp. 2 inches apart on a greased cookie sheet (or a non-stick baking sheet). Bake in moderate oven (375 degrees) for 8 – 10 minutes.
Makes 6 dozen.
SHARE YOUR FAVORITE COOKIE RECIPE IN THE COMMENTS!