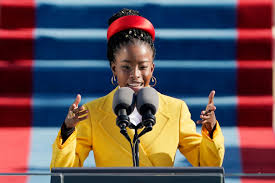 Pictured above is one of my favorite poets – Amanda Gorman. In the picture, she is reading a poem at the inauguration of President Joe Biden! And, she is just 22 years old!!
Amanda Gorman is the youngest inaugural poet in U.S. history, as well as an award-winning writer! She has written for the New York Times and has three books forthcoming with Penguin Random House.
Born and raised in Los Angeles, she began writing at only a few years of age. Now her words have won her invitations to the Obama White House and to perform for Lin-Manuel Miranda, Al Gore, Secretary Hillary Clinton, Malala Yousafzai, and others.
In 2017, Amanda Gorman was appointed the first-ever National Youth Poet Laureate by Urban Word – a program that supports Youth Poets Laureate in more than 60 cities, regions and states nationally. She is the recipient of the Poets & Writers Barnes & Noble Writers for Writers Award, and is the youngest. board member of 826 National, the largest youth writing network in the United States.
Click on the link below to watch Amanda Gorman read her poem "Talking Gets Us There".
https://pbskids.org/video/dots-spot/3050991492
HERE'S YOUR CHALLENGE: WRITE A POEM OF YOUR OWN!!
Go to https://www.poetry4kids.com/ to explore! Click on the "Poems" tab to read poems others have written to help you gain some inspiration!
Under the "Lessons" tab, you'll find poetry lessons, as well as a rhyming dictionary!!
Submit your poem in the comments below.