Hello!
We did the third Math Olympiad this week. There are 5 questions on the contest, and each one presented a different challenge.  The last question was a logic problem where letters represent numbers, and it was extra tricky!  We will work on strategies for tackling this type of problem, as well as the other contest problems next week.
This is an similar problem to work out at home!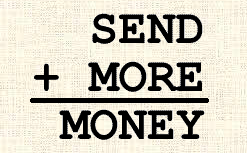 Solution can be found at http://mathforum.org/library/drmath/view/60417.html
The EY blog will have a new science link posted each week during the third quarter. This week the direct link is http://wp.me/p4amXn-8K
Accessing the blog will be the same each week.  The link above will take you right to the post, but you can also go to ey.westside66.org and then click on Concepts -> Q3 Innovation and find the newest post at the top.
Stay warm and enjoy your weekend.
Jenny