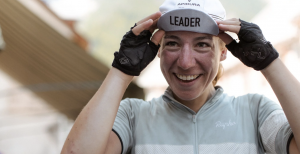 Enjoy riding your bike? Fiona Kolbinger from Germany sure does! She just won the ultra-endurance Transcontinental Race on August 6, 2019! The cancer researcher from Germany outrode 225 men and 39 women to complete the approximately 2,485 mile-race from Bulgaria to France in 10 days, two hours, and 48 minutes. Even more impressive, Kolbinger crossed the finish line almost 11 hours ahead of the second-place winner, Ben Davies of the United Kingdom.
Watch the video below to find out more about the Transcontinental Race, then click on the link below the video to read the entire article about Fiona's amazing win!
https://www.dogonews.com/2019/8/12/fiona-kolbinger-is-the-first-female-cyclist-to-win-the-grueling-transcontinental-race
Finally, play the game at the bottom of the article!
In the comments below, write a note to Fiona, including what you found most impressive about her win!