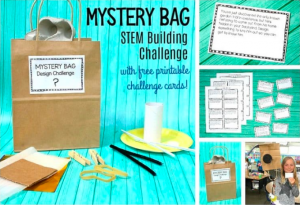 Looking for a really fun STEM challenge that you can do at home? This mystery bag STEM design challenge is a blast!
In this design activity, you will use a bag of mystery materials (an assortment of recyclables and other random items) and then a challenge card stating a building challenge to do with those materials. Then you use those "mystery" materials to complete the challenge.
Step One: Gather Materials
One bag (you can use gift bags, lunch bags, grocery bags, or even large baggies.)
Scissors
Tape (scotch tape or masking tape)
Various kinds of recyclables (cardboard tubes, cardboard, newspaper, aluminum foil)
A variety of other materials (paper plates, plastic cups, string, yarn, pipe cleaners)
Mystery Bag Challenge Cards (print and cut these if you can)
Step Two: Fill Your Bag (Tip: it's more challenging if a sibling or parent fills your bag)
Place about 8-12 items into the bag. You'll want to be sure the items are varied. Each bag should contain at least one larger item that can serve as a base for the design, and then an assortment of smaller items.
Step Three: Print out the free mystery bag challenge cards. Cut them apart.
Step Four: Draw a challenge card. You could put the cards in a container to draw from or place face down on a table.
Step Five: Complete the challenge on the card using only the materials in your bag.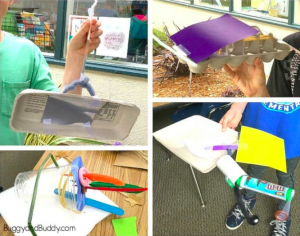 Bonus: Earn a  badge. If you complete FIVE mystery bag design challenges, you can earn the Mystery Design Challenge Badge. Go for it!!
Here is video I made at my old school where I challenged my students to create an innovative dog toy. Just ignore anytime I say, "Hey Bobcats"