The word "Pandemic" is a pretty scary word. It almost seems like we're going through something that no one else ever has before.
But, that isn't true. Pandemics have existed throughout history.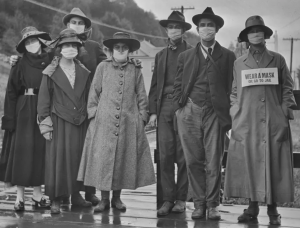 A group of mask-wearing citizens, Locust Avenue, California, during the flu pandemic of 1918. Photograph: Raymond Coyne/Courtesy of Lucretia Little History Room, Mill Valley Public Library. © The Annual Dipsea Race.
To learn about the history of pandemics, read the Time For Kids article linked below:
https://www.timeforkids.com/g34/history-pandemics/
Then, in the comments below, write the one thing you feel has changed the most for you during this particular Covid-19 pandemic.