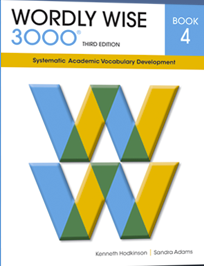 Wordly Wise is a vocabulary reinforcemnt program. Each lesson presents a list of words with their part of speech and definition(s).  Students complete 5 components for each lesson which gives them an opportunity to learn the words in a variety of contexts. My favorite component of each lesson is where all the words are used in a story and then the students have to answer questions about the story. This week's story in Lesson 2 of Book 2 was about bats. Very interesting!
There's a free Wordly Wise app for the iPad. You can download it here or by clicking the link below.
https://itunes.apple.com/us/app/wordly-wise-3000-vocabulary/id632074934?mt=8
If you have a chance to download the app, let us know what you think by leaving a comment!