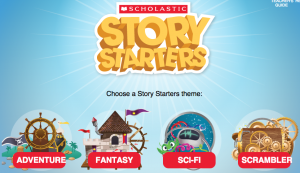 Scholastic has developed a fun way for students to break that writers' block!  Just go to the following link:  http://www.scholastic.com/teachers/story-starters/ and decide which theme you'd like to explore!
Once you decide, enter your first name and choose your grade level. Next, spin the wheel to get your story starter!  You can even spin the individual columns to change a piece of the story starter, if you want to!
Once you're happy with your story starter, choose a format for your story.  You can pick from notebook, letter, newspaper, or postcard.  You can even include a drawing of your own!  When you're satisfied, click "All Done" and you can choose to save your story or start a new one.
Take a screen shot of your completed story and send it to your EY coordinator!  We're anxious to see what fun stories you come up with!