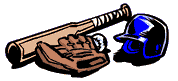 image taken from Public Domain clipart @ pdclipart.org
Take Me out to the Ball Game!
The baseball/softball season is upon us and what better way to prepare for the fun than by studying the ways in which math is used in these fine sports?!
How can I spend my Math Minutes this week?
Watch this video below about Baseball Batting Averages.  Post a comment about something new you learned from the video.
Calculate batting averages using this worksheet: https://drive.google.com/open?id=0B59p7nLR3kODanp4bE9mOHJ2Uk0  Turn in your completed worksheet to the EY Coordinator at your building.  Worksheet Source: http://baseballhall.org/hall-of-famers/future-eligibles#2017-eligibles
There are many graphs that display baseball data.  Find a graph and summarize the data.  Turn your graph and summary into the EY Coordinator at your building.
Look at the graph below and write 5 summary sentences about the data.  Find out some additional information about any one of the players listed in this graph.  Graph Source: http://www.theatlantic.com/entertainment/archive/2014/06/rip-tony-gwynn-baseballs-best-hitter-in-the-last-60-years/372860/