Another Bitsbox Challenge
Thank you to those of you who tried the first EY Challenge of the year.  If you did, this challenge is an extension of that.  If you didn't do the first challenge, no worries.  This video should help you get started.  Also, here are some basic steps:
1. Draw a picture on paper or using an app on your iPad.    Start with something simple like an animal. I drew this cow using Drawing Pad.  Take a picture of your drawing or take a screenshot.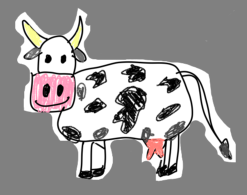 2.  Go to Safari and type in bitsbox.com and in the upper right corner select "kids sign in" and use your Westside Google Account to sign in
3.  From there, the video below should walk you through the steps.
This code is in the video, but here is another copy of what you'll be typing in on Bitsbox.

Don't forget to submit your work!
This challenge closes September 24