What Melts in the Sun?
This summer was HOT!! There were even stories about eggs frying on a sidewalk. This makes you think….what ordinary items might melt in the sun?
Task: Ask your parent's permission first!! Then, find a muffin tin and 12 ordinary household items that make you ask…."Does this melt in the sun?"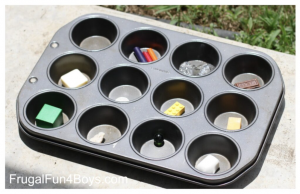 Write those items down on a piece of paper and then divide that paper into 2 columns: 1 column for predicting and the other column will be your results. It can look like this: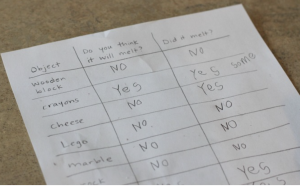 Choose a day where the temperature is at least 85 degrees. Put your muffin tin with the items in the full sun and wait at least 20 minutes.
I know it's hard to wait 20 minutes, but you can do it!!! After the 20 minutes is up, go check on your results! Fill in the column with the results of your experiment.
Now, for the most important step:  CLEAN UP AND PUT THINGS BACK!
Finally, take a picture of your paper with your predictions & results and email it to your EY teacher!
We can't wait to see it!
Lesson adapted from: https://frugalfun4boys.com/simple-science-experiment-for-kids-what-melts-in-the-sun/