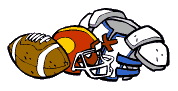 There is a plethora of data when it comes to sports!  Whether you're looking at individual player stats, team rankings, or just want to see the breakdown of a particular game…MATH IS EVERYWHERE IN SPORTS!
This Mini Spark has you looking at the 21-22 Westside High School Football JV and Varsity Football Roster.  Download and print a copy of the worksheet and roster by clicking the links below.  Or, you can complete the worksheet digitally using Notability or other app on your iPad.
When you're finished, show your classroom teacher and/or your EY Coordinator.
Worksheet:  https://drive.google.com/file/d/1dSSsHG7ddQJjY74xtgz45yVjqlMP8f7y/view?usp=sharing
JV Football Roster:  https://drive.google.com/file/d/1tiADGIRu6cgsIQWIx3BTIM1JCS8ICCLZ/view?usp=sharing
Varsity Football Roster: https://drive.google.com/file/d/1lf_44eFFhv-QHSsv-M62mpTL4ZX5z61I/view?usp=sharing
image source: https://docs.google.com/document/d/1_UGZ5jFqqjw3iY1GJ_4r-Kt7rpuFOiu3hKX7BYZvWJ8/copy