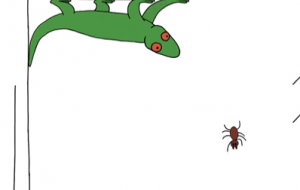 For this week's Reading enRichment, complete the following:
Read the following writing prompts before you watch the video.

What are spatula?  If the spatulae weren't shaped like spatulas, would it be better for them to be shaped like spheres or cubes? Why?
Explain the process that makes the geckos feet "stick" to surfaces.
Talk about how the geckos sticky feet can help humans create new materials. How could this help humankind?

Watch this TED Talk:  https://youtu.be/YeSuQm7KfaE
Pause the video if you need to take notes.  You may need to watch the video more than once.
Choose one of the prompts listed above and leave a comment (at least 3-4 sentences).  When leaving a comment, use your first name, grade, and school (i.e. Tyler, 5, Sunset).  Do not publish your email.
NOTE:  There is a section in the video about electrons and charges.  You do not need to understand this 100%, just watch and listen to the narrator explain the process.
Take it a step further by learning more about our world using research and Geckos!
Watch this video: https://youtu.be/TlyvS1ckDZM
Expand on what you have learned by researching your own animal and responding to this prompt:

What is another animal that exhibits an incredible phenomenon, and how can it be used to make life better for humankind?

Record your responses on this form
And if you still can't get enough…This "Prototype This" episode @ https://youtu.be/0yp9tsthL8s is about creating a Gecko Superhero Suit.  Respond to this post after watching the video with any new learnings, thoughts, and/or opinions.