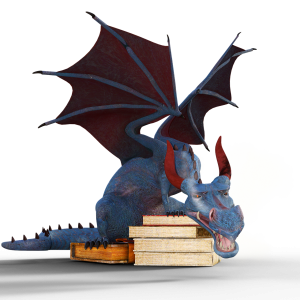 Dragons have been an important character in fairy tales and fantasy stories for ages.  Fire breathing dragons may not exist, but if you consider a dragon to be a supersize reptile with a wicked bite…then have I got a challenge for you!  The Komodo dragon is the real deal!  How can a Komodo dragon, that weighs about 300 pounds, kill a water buffalo that is over twice its size?  Read this article to find out:
https://kids.nationalgeographic.com/animals/komodo-dragon/#komodo-dragon-head-on.jpg
The San Diego zoo has a Komodo dragon named Ken.  Watch this video to meet him:
http://kids.sandiegozoo.org/videos/komodo-dragons
Take it a step further: Komodo dragons only live in one country in the world, Indonesia.  Indonesia is made up of several islands.  Komodo dragons reside on some of the islands, but not all of them.  This website will show you some other interesting facts about Indonesia—home of the Komodo dragon:
http://www.sciencekids.co.nz/sciencefacts/countries/indonesia.html
What are three facts you learned about Indonesia?  What else would you like to know about Indonesia or Komodo dragons?
A site to use for further research