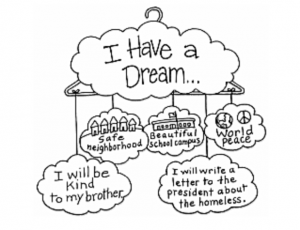 "I Have a Dream" is a public speech that was delivered by American civil rights activist Martin Luther King Jr. during the March on Washington for Jobs and Freedom on August 28, 1963, in which he called for civil and economic rights and an end to racism in the United States.
To celebrate Dr. Martin Luther King, Jr. , this post is challenging you to dream as well.
Materials you'll need:
Scissors
drawing paper
hole punch
string
hanger
tape
You will need 5 clouds, either drawn by you or you can print one from this link.
Directions:
On each cloud, draw a dream you have for your family, school, community, country, or world.
Write a caption under each drawing.
On the back of each cloud, write one thing you can do to make your dream a reality.
Hole punch the top of your cloud.
Tie a string to each cloud.
Hang each cloud from your hanger.
Cut out and attach with tape two larger clouds to cover each side of the hanger and write I Have A Dream on the front.
Challenge: Figure out a way to make your mobile move!
Either bring your creation to school to show your EY Coordinator, or take a picture of your creation and email to your EY Coordinator.