Article by Jason Gilbert – TheHuffingtonPost2012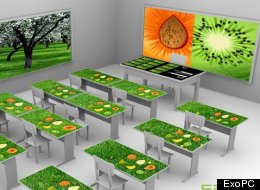 Kids, don't stick your gum on these desks.
ExoPC, the French-Canadian startup that manufactures a tabletop multitouch surface with a 32-inch LCD display called the EXOdesk, has signed a deal with the government of Panama to furnish a physics classroom with its advanced touchscreen desks. This gives us a glimpse at what a classroom of the future might be.
The pilot classroom, which was authorized and will be overseen by Panama's minister of science, technology and innovation, will feature 20 touchscreen EXOdesks for grade school students, a larger EXOdesk for the teacher, and at the front of the room, a huge interactive multitouch "blackboard." This is just a giant touchscreen surface hanging on the wall. All of the books, notebooks, writing utensils and other school supplies will be stored within the desk's memory and be accessible at home at any time via the cloud.
(That's right: School desks have computer memory now and are available in the cloud. Back when I was a schoolboy, in order to get to the cloud, we had to walk barefoot, in the snow, uphill, both ways.)
Anyway, the desk itself contains an Intel i5 processor and runs a version of Windows 7, with an HTML5 interface specifically designed by ExoPC to suit the curriculum of the physics classroom. All of the desks and the blackboard will be connected via Wi-Fi so that students and the teacher can wirelessly share work and collaborate with one another. This will make it especially easy for one student to help another with a tricky problem.
Here's a mockup of what the classroom should look like when it's ready. The first day of school is in three months, and if I were a student at this particular Panamanian public school, I'd be pretty darn excited for summer to be over. (Okay, maybe not, but this is still pretty cool.)