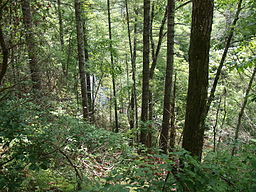 Image taken from: https://commons.wikimedia.org/wiki/File%3AOak-pine_forest_-_Abrams_Creek.jpg
Why would anyone want to start a forest fire on purpose?  How can you conduct a controlled burn?  What is a restoration biologist?  What components of STEAM (Science, Technology, Engineering, Art, and Math) are important to the controlled burn process?
Find the answers to these questions and more by doing a little research (start with the links below).  We would LOVE to take a few interested students to the forest to learn more about this process.  Your ticket?  Read on!
Research Links:
Watch a video and read about the controlled burn here: http://www.wowt.com/home/headlines/Restoration-by-Fire-335412371.html
Here is another news source: http://www.ketv.com/news/why-crews-will-soon-set-fontenelle-forest-on-fire/35996890
Fontenelle Forest Website:  http://www.fontenelleforest.org
Article-Reducing catastrophic wildfires through managed burns: http://www.sciencedaily.com/releases/2015/09/150918152244.htm
When you are finished researching, display your learning somehow.  Push yourself to try a new app or a new way of showing your learning.  Here are some examples:
Write a letter Fontenelle Forest
If you could interview a restoration biologist, what questions would you ask?
Make a picture book or an A-Z book about the topic (an A-Z book has something related to the topic for every letter in the alphabet)
Email your finished product to the EY coordinator.