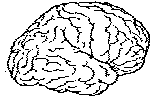 Remind students that they "drive" their own brains,
and teach them useful learning strategies.
Check out this article about teaching students about their brains.
Memory talks are remembering to remember.
Check out this video about strengthening a child's brain.
The prefrontal cortex is one of the areas of the brain that changes
the most dramatically during adolescence. 
Check out this video about the prefrontal cortex in adolescents.
Do you have any thoughts and/or resources related to brain development in children and adolescents?  Feel free to leave a comment below and share!