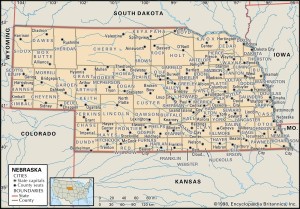 Map taken from http://www.mapofus.org/nebraska/
I absolutely love road trips which is why I got so excited when "12 Nebraska towns you've probably never heard of" was recently published in The Lincoln Journal Star.  I immediately thought to myself…
What a perfect opportunity for students to learn about our great state and possibly plan a road trip for the family!
Your Challenge (if you choose to accept it):  Research the Nebraska towns listed in the article.  Here are some sample questions to guide your research…
Where in Nebraska is the town located?
How did the town get its name?
What is the town known for?
When was the town settled?
What unique attractions are in the town and/or in nearby towns?
What are some interesting facts about the town?
Is a day-trip to the town doable?  If so, what is the mileage from Omaha?
Present your information in a format of your choice.  Be creative!  When you're finished, submit your product to the EY Coordinator at your building.
Below are the 12 Nebraska towns listed in the article.  If you think there's another Nebraska town that should be on the list, leave a comment and tell us why.
Edison, NE
Shubert, NE