I am reading  Sheep by Valerie Hobbs with a group of 3rd graders from Westgate.  I hate to admit it, but this is actually the first reading group I've ever conducted during my 16 years of teaching.  Granted, I taught math for 9 years and did technology integration for 5 years, so it's not like I've had many opportunities to facilitate a reading group.  Nonetheless, it's never too late to try something new.  What I've learned so far?  I LOVE IT!
I know I could have "Googled" some ideas for a book group, but I thought I'd stretch myself and come up with some of my own ideas.  Feel free to comment and add suggestions to anything I have listed.
Students used Pic Collage on their iPads to document the different names for Jack throughout the book.  It was a great way to talk about the characters and the experiences Jack had with each of them.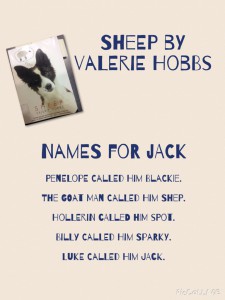 Today I read part of chapter 9 out loud.  As I read, students used Drawing Pad on their iPad to draw the scene.
This slideshow requires JavaScript.
When we read about the Goat Man in chapters 3 and 4, I had the students write "Words of Wisdom" since the Goat Man was known for his Words of Wisdom cards.  Next time we meet, we're going to make bookmarks with their Words of Wisdom and illustrations.  I'm hoping that I can send those to the author and have her autograph them.  🙂  Here are some of the Words of Wisdom the kids came up with…
Some people look for a great place.  Others make a place great.
Be who you are and say what you feel because those who matter don't mind.
Stop hating yourself for everything you aren't and start loving yourself for everything that you are.
Do what you love and stick with it.
Love and grief grow in the same garden.
What are some of your Words of Wisdom?  Leave a comment below!