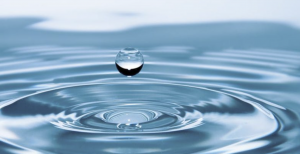 You may think every drop of rain falling from the sky, or each glass of water you drink, is brand new, but it has always been here, and is a part of the water cycle.  At its most basic, the water cycle is how water continuously moves from the ground to the atmosphere and back again.  As it moves through this cycle, it changes forms.  Water is the only substance that naturally exists in three states on Earth – solid, liquid, and gas.
Over 96% of total global water is in the ocean, so let's start there.  Energy from the sun causes water on the surface to evaporate into water vapor – a gas.  This invisible vapor rises into the atmosphere, where the air is colder, and condenses into clouds.  Air currents move these clouds all around the earth.
Water drops form in clouds, and the drops then return to the ocean or land as precipitation, often rainfall.   When it rains, the raindrops fall to the ground, and run off into a lake or river, which flows back into the ocean, where it starts the process again.
Have you ever thought about the journey a raindrop takes?
When you click on the link below, you will see a map of the continental United States.
This website allows for you to click anywhere on the map to drop a raindrop and follow its journey to the Gulf of Mexico, the Atlantic or the Pacific Oceans! Once you click, you'll get a bird's eye view of the path the raindrop takes!
Try it out! Then comment below with something that surprised you!
https://river-runner.samlearner.com/?fbclid=IwAR0W9pISldvvUF9tx6l8RoYLwiz1fITqa1j4aiHTy8htV5bTFIXvkqB45dc