What is a Simile? The official definition of a simile is a noun that means: "a figure of speech involving the comparison of one thing with another thing of a different kind, used to make a description more emphatic or vivid."
Step One: Watch this Brain Pop Jr. video about Similes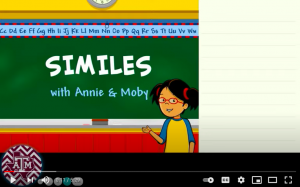 and this word girl video
Step Two: Look at the Simile list below. Whisper read a scenario for each one
Example: as sly as a fox
Hillary was ______________________ , as she to gingerly placed the fruit bat into her backpack.
Easy as ABC
Like two peas in a pod
Straight as an arrow
Wise as an owl
Step Three: Watch and listen to the book, "My Dog Is As Smelly As Dirty Socks". Click book image below.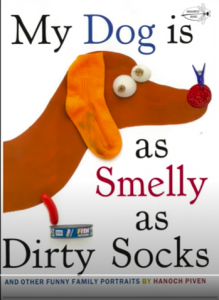 Step Four: Write a "Simile Me".
First, jot down five words you would use to describe yourself.
Use your five words and make comparisons to something else, writing your own version of a "Simile Me"
Here is my example:
1 – busy                                                                                                                                 
2 – creative
3 – hardworking
4 – happy
5 – sleepy
I'm as busy as a timer,
As creative as a stained glass window,
As hardworking as an elephant,
As happy as a well-loved dog,
And as sleepy as a pillow.
Step Five: Use an app of your choice to create a fun illustration/visual of your "Simile Me"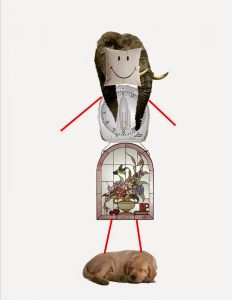 Step Six: Send your "Simile Me" and illustration/visual to your EY Coordinator!