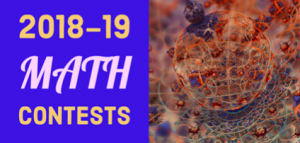 Who's up for a contest?
Each week during the 2018-19 school year, a math contest will be posted on the EY Blog.  There are several ways to access the contests.  1. Your teacher should have a poster in his/her room with a QR code you can scan.  2. You can go to the EY Blog main page and select Math -> 2018-19 Math Contests.  3. Click here!
Each contest will be a Google Form that you can take on your school iPad.  Although we have no way of checking, we would like for you to take no more than 20 minutes on each contest.
Theses contests were designed for students in grades 5-6, but any student is welcome to participate.
If there is more than one submission for any particular student, the score for that contest will not be counted.
You MAY use a calculator, but please work by yourself!
We will keep a running total of your contest points and award prizes periodically.
Good luck and have fun!