Wow! Over 80 mask submissions for our first Weekly Challenge!
Thank you all for submitting your fun, fashionable, functional and fitting mask designs for the first EY Weekly Challenge!  Each week, we will pick out a few of our favorites to highlight.
Calista from Loveland went the fashionable route for her mask.  Check out the reversible Halloween mask that her and friend Katie sewed themselves!
Whitney from Rockbrook sewed a mask with her Grandma.  The pleats make for a functional and comfortable fit!
Logan from Loveland went the functional route with cooling fans and a zipper for eating and talking.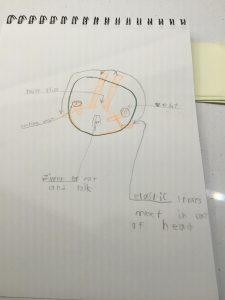 Alondra from WMS looks like she is on her way to a business opportunity with her mask design!

Ada from Loveland was resourceful in her design as she up-cycled a sock for her mask.

Thanks for checking out the highlights for Weekly Challenge #1!  Make sure to check back for the highlights of Weekly Challenge #2!