Do you know what comes around every Sept. 15?
International Dot Day???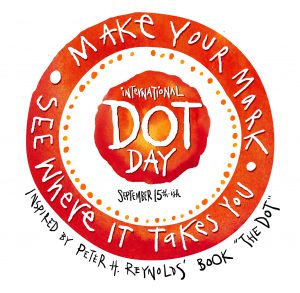 Get started exploring the dot by watching "The Dot" by Peter H. Reynolds.
There are so many ways to celebrate that dot!  A dot might be small, but it's a powerful way to show your unique individuality and creativity.
Timed Creative Challenge
Don't look at the challenge until you are ready to get started. Have an adult or a friend print this it off for you. You need a pencil or colored pencils and a timer set to 3 minutes.
Timed Creative Challenge Sheet
Dot book study guide and writing projects
This guide has discussion questions and writing prompts for you to try!
Dot Engineering
Design and create a structure with simple materials.
Dot Art
Learn about pointillism using this art mini lesson.
Dot  Birthdays
You will research famous people who have made their mark on our world with this dot activity.
Do you want to earn the Dot Badge?
–