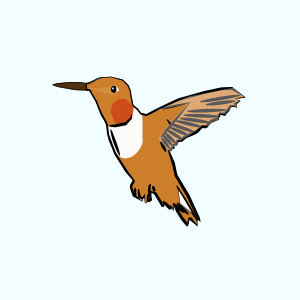 A flash of harmless lightning, A mist of rainbow dyes, The burnished sunbeams brightening From flower to flower he flies.  ~John Banister Tabb
Learn about these amazing tiny flying machines by completing the following…
Start by watching a video about hummingbirds: http://blogs.kqed.org/science/2015/03/31/what-happens-when-you-put-a-hummingbird-in-a-wind-tunnel/
Show what you learned by choosing two of the prompts to complete.  Post your response as a comment or email your response to the EY coordinator at your building.

Using many details, explain how a hummingbird hovers.
How does a hummingbird continue to hover in wind and rain? Explain the process for both.
What part of the video was most interesting to you and why?
What other questions do you have about hummingbirds?

Take it a step further by conducting research to find another animal that is in a symbiotic relationship.  Provide information about both parts of the relationship and how they support one another.
Image taken from https://openclipart.org/image/300px/svg_to_png/217285/hummingbird.png