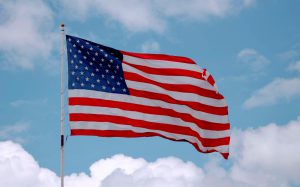 We've all heard the legend of Betsy Ross. But, who created and designed our current American flag?
Believe it or not, the designer was a 17-year-old boy from Lancaster, Ohio, who did it for a school assignment!
Yep, the year was 1958, and at that time, there were only 48 states. Robert G. Heft was riding the bus home from school one day that year. He was thinking about the assignment his history teacher, Mr. Pratt, had given the class—a project that demonstrated their interest in history. Something visual. Something original. By Monday.
As Robert rode through downtown Lancaster, he saw the flag on top of Lancaster city hall. "That's what convinced me," he said. "I would design a new flag."
Robert was interested in politics. He knew that Alaska was likely to soon become the 49th state. "But I knew that Alaska was heavily Democrat," he says. "The Senate would have to approve the addition, and it was dominated by Republicans at the time. Everyone was saying that they would be adding another state to balance it out." He had a hunch that then-Republican Hawaii would soon become the 50th state.
At home that night he sketched out a grid for 50 stars. "I couldn't just throw them in anywhere." So he came up with a design. Five rows of six stars with four alternating rows of five stars. He even went so far as to sew a flag with the new design!
You would think he earned an "A"!  "Not on your life," he said. "My teacher, Mr. Pratt, was a taskmaster. He looked at what I'd done and said it wasn't the real flag. Not with 50 stars. I explained my reasoning, and he still just barely gave me a passing grade, so for the first time I really spoke out. I told him I deserved better. I had a friend who'd done a collage of leaves and got an A. What I'd done showed a lot more imagination. Mr. Pratt looked at me coolly and declared, 'If you don't like the grade, go get the flag accepted in Washington!'"
And that's exactly what Robert Heft set out to do. He biked over to the home of his congressman, Walter Moeller, knocked on the door, gave him the flag and explained what it was for.
"I asked him if he would take my flag to Washington, and if there were ever a contest to determine the design for a 50-star flag, would he present mine? He was so bowled over that he agreed, probably just to get rid of me."
Two years went by. In January 1959 President Eisenhower signed a proclamation announcing the admission of Alaska as the 49th state. As with all new states, the star would be added on the following July 4th.
That 49-star flag—seven rows of seven stars—was almost immediately obsolete. Because in August 1959, just as Robert had expected, Hawaii became the 50th state.
He'd already graduated from high school by then, the woeful grade still in Mr. Pratt's book. Robert was working as a draftsman for an industrial firm and going to college at night. Whatever happened to my flag design? he wondered.
He'd heard that thousands of new designs had been submitted. A special commission of congressmen was screening them and choosing five for submission to President Eisenhower.
In early June, Congressman Moeller called Robert and said,  "Son, I'm proud to tell you that President Eisenhower has selected your design for our nation's new flag. Congratulations."
Robert flew to Washington to see his flag flown over the Capitol for the first time. Thousands of others had submitted the same design, but Robert Heft's had been the first. Moreover it wasn't just a sketch. It was an actual flag. That was a big plus.
What did his high school teacher, Mr. Pratt, think? "The day I returned from Washington, Mr. Pratt changed my grade. But you know," Robert mused, "if I hadn't gotten that bad grade in the first place I wouldn't have given the flag to Congressman Moeller. And if I hadn't done that, I never would have gone to Washington…."
For more than 40 years, longer than any other, his design has been the one we know. "But I've got a good design for fifty-one," he said, "in case we add another."
It's good to be reminded that Old Glory is a work-in-progress. Always has been, I guess. From the 13 original Stars and Stripes to the star-spangled banner of today, long may it wave.
Your task: There has long been talk of adding another state – Puerto Rico.
Draw a design for an American flag that would include Puerto Rico with 51 stars.
Take a picture of your design and email it, or turn it into your EY teacher.
Source: https://www.guideposts.org/better-living/positive-living/inspired-to-create-a-grand-new-flag