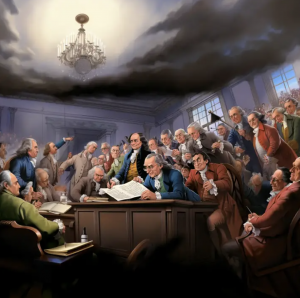 Sunday, September 17th of 2023 was Constitution Day!
Constitution Day commemorates the formation and signing of the U.S. Constitution by thirty-nine brave men on September 17, 1787, recognizing all who are born in the U.S.
or by naturalization, have become citizens. On September 17, 1787, the delegates to the Constitutional Convention met for the last time to sign the document they had created.
The Constitution is the framework for the federal government of the United States. It is the highest form of law in the country. The Constitution creates the branches of government and gives them the power to govern. However, it also protects the citizens of the United States and guarantees their basic rights.
A primary aim of the Constitution was to create a government that would be powerful enough to run the country, but would not impose on people's or state's rights. To avoid too much power being held by one person or group, they created the Balance of Power between the three branches of government: Executive, Legislative, and Judicial.
Articles of the Constitution

The Constitution is organized into seven articles:
Legislative Power
Executive Power
Judicial Power
States' Powers and Limits
Amendments
Federal Power
Ratification
Ratification

In order for the Constitution to go into effect, 9 of the 13 states needed to ratify it. The first state to ratify the Constitution was Delaware on December 7, 1787. The last state was Rhode Island in May of 1790.
Interesting Facts about the Constitution
James Madison is often called the father of the Constitution since so much of his work and ideas were incorporated into the final document.
Governor Morris wrote the Constitution and is widely credited with authoring the famous preamble.
39 of the 55 delegates at the convention signed the document. Many who refused did so because of the lack of a Bill of Rights.
The US Constitution is the oldest written constitution still used in the world today.
The Constitution that is on display at the National Archives was penned by Jacob Shallus.
There are currently 27 amendments to the Constitution.
Watch the Schoolhouse Rock video below to learn more about the Constitution:
Finally, go to this link to try a quiz!
How did you do? Answer in the comment section below.