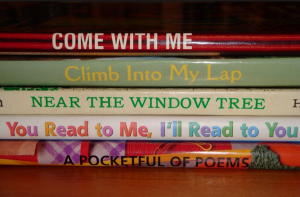 Have you heard of "book spine poetry?" It's a kind of poetry that you don't really write from scratch – instead, you "find" it by arranging book titles to make a poem. This type of poem can be serious or funny, just like in regular poetry.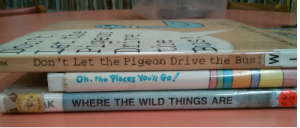 Okay, ready to make your own book spine poetry? All you need is a stack of book with interesting titles from around the house or your school library. Place a few books on top of each other. Play around with the titles to create a short poem, words that create an image, feeling or scene. Write down the titles when you find a combination you like.
As you write down titles, you might notice some that seem to go together to tell a funny or interesting story.  Try to include 4 or more book titles in your poem
When you have several finished book spine poems, you can document your favorite by taking a picture. If you come up with one that you would like to share, please email it to the EY coordinator in your building. After doing this project, share a comment below about your poem.
Lesson adapted from :http://www.brainpickings.org/tag/book-spine-poetry/ and http://www.pbs.org/parents/adventures-in-learning/2015/04/book-spine-poetry/