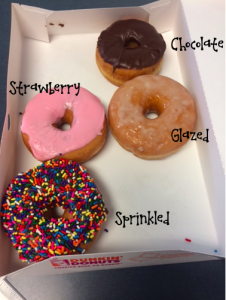 You can think of almost anything as a math problem!
This week's math minute has you diving into a box of donuts and solving a variety of math problems.  Correctly answer all the problems on the worksheet and earn a round prize. You can work individually or as a class.  Due to the complexity of some of the questions, It's acceptable to use your resources (ie. teacher, older brother or sister, Internet to look up a formula, etc.) and ask for help.
"Donut" let this opportunity slip by!
Start solving these "sweet" math problems today!
Click here for a .pdf version of the questions