Forever Ago® is a history show for the whole family! Every episode explores the origin of just one thing — like sandwiches, video games, clocks and more — while teaching listeners to think critically about history.
Step 1 – Watch this brief video about the Forever Ago podcasts.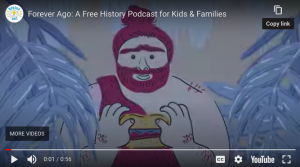 Step 2 – Choose 1 episode from the list below.
Step 3 – Record a Flipgrid to tell others what you learned! Use the Flipgrid Review Planner to organize your thoughts before recording. Visit the Flipgrid below to submit your review!
https://flipgrid.com/b44c5ddb