Spring is in the air! Learn all about the blooming power of flowers and then do a hands-on activity creating a blooming flower and card to give to someone special.
Step 1: Watch this Mystery Science video about how flowers bloom.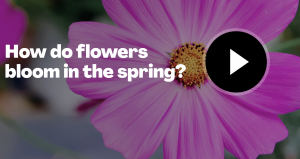 Step 2: Gather needed materials to complete the activity.
Crayons
Scissors
Dot Stickers or Tape
Plastic Paper Plate or Bowl
Step 3: In this activity, you will make a colorful paper flower and a greeting card that they can give to any special person in their life. When placed in water, the paper flower will unfold, appearing to move and bloom in front of your eyes! You may want to use this as a Mother's Day activity, but you choose who will receive the card, so it can be for anyone special.
Click on the image below to print template and view step-by-step instructions.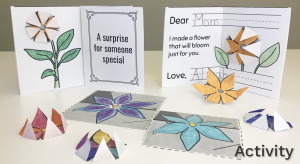 Once your flowers are complete, place them in water to watch them bloom!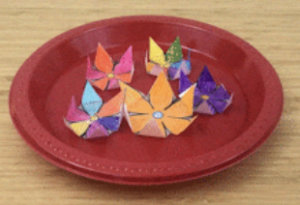 Extension: You can see for yourself how water moves inside a plant. Fill a glass with water and add a few drops of red or blue food coloring. Place a white flower in the glass. Wait a few hours and watch to see what happens. Look closely at the flower petals. What do you notice? Repeat this experiment, but use a stalk of celery or a lettuce leaf. What do you predict will happen?